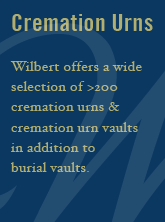 Personalization
Wilbert offers multiple ways to personalize a burial vault or urn vault with words, symbols, and images that speak of a singular spirit. Your loved one had a unique personality. The selections you make for the visitation and service should communicate that singular spirit. These choices ensure your loved one's memory is remembered for generations to come.
History of Richards-Wilbert
The Richards-Wilbert company has served Maryland, Pennsylvania, Virginia, and West Virginia for many years under several different names and owners. Rob Richards purchased the Hagerstown location in the mid 70's and expanded the business to include the Mt. Jackson and Salem, VA locations.

In 2008, Richards-Wilbert was purchased by Richard Ward, also an owner of, Rockville Fuel & Feed of Montgomery County, MD. Since then the company has seen many improvements in delivery equipment, cemetery setups, quality of burial vaults and burial services. In 2009, Richards-Wilbert was awarded by Wilbert the achievement of Ultimate Service Provider. This prestigious award is given to select licensees who provide the utmost quality of service and Wilbert product within the Wilbert network throughout the United States and Canada.

Today, our business continues to thrive thanks to the trust and loyalty of our funeral home customers who demand the very best in burial vault and cremation urn products and services.

Our customers have found great success when utilizing our personalization and memorialization programs, including Legacy, Custom Legacy and Life's Reflection options. Please browse our site to view these meaningful programs.

Our goal is and will always be to provide the very best when called upon.


Richards-Wilbert
140 Western Maryland Parkway Suite A • Hagerstown, MD 21470 • Phone: (301) 582-1122 • Email Us